Hello!
Sunday, 29 November 2009
Hello there!
It's been a while since I posted, a lot of uni work and general business. I have started a blog to publish my university work. So far the work I have uploaded is a little old but the new work will be uploaded this week when I can get into the photographic studio.
I'll also be posting regularly with content similar to this blog, so it's well worth you following me or subscribing to the new RSS feed.
Click:
gemmalea.blogspot.com
Big loves all round xx
posted by Lola-Mae Online @ 10:00 pm, ,



Perpetual Black Desk Top Calendar - £27.95 from Melody Maison



Melody Maison
is a gorgeous online store specialising in shabby chic and french style furniture. The amazing desk top calendar (above) is currently out of stock but you can back order it ready for shipping on April 30th.
Melody Maison
is also one of the UK's leading stockists of mannequins; the decorative table top example (below) would look amazing in a bedroom and is really well priced. There's tons more beautiful furniture and home accessories to trawl through, i recommend book marking them if you are planning to decorate your house in the near future.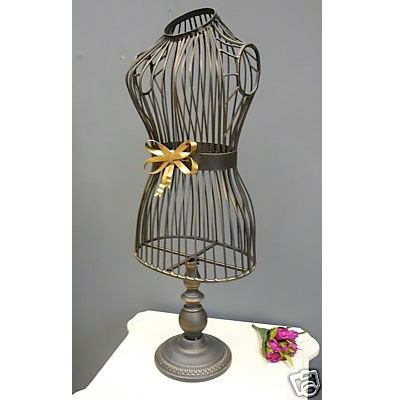 Brown Black table top mannequin - £34.95 from Melody Maison



Labels: accesories, calendar, chic, decorative, desktop, dummy, french, kitsch, mannequin, Melody Maison, perpetual, retro, shabby
posted by Lola-Mae Online @ 4:27 pm, ,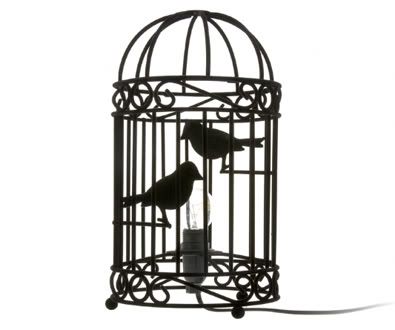 Birdcage Table Lamp - £45 from Dutch by Design



I received an email the other day from
Dutch by Design
, a London based company that is passionate about contemporary dutch design. It's such a treat to find a store like this that is based in the UK. I particularly love the
Birdcage Table Lamp
(above), they currently only have pink in stock but you can register to be sent an email alert when the other colours are available. The
Ivy Wall Panel
(below) is really quite special also; charming and whimsical!



Tord Boontje Ivy Wall Panel - set of six : £47.50 from Dutch by Design



Labels: birdcage, birds, Dutch by Design, ivy, lighting, wall art, wall hanging
posted by Lola-Mae Online @ 10:10 am, ,


Lola-Mae Online is about to become active again! There are lots of new submissions coming up so I'd love it for you guys to join the new RSS feed by clicking
here
.
I'll also be featuring a special article in the near future about how to start your own business on sites such as Etsy. I hope to have everything covered, even down to how you get your work printed, what you should know about sending your work to the printers and tips to start and/or increase sales. If you have any questions please email them to me and I will try to get them answered, there is a link to my email address on the left navigation bar.
So, it's been a while but hopefully we will be back on track soon, in the mean time please enjoy a mantra design by
Sarah Gardner.
Her work is really lovely and if your having a break and a cup of tea I insist you pop over and take a look through her Flickr album.
posted by Lola-Mae Online @ 4:14 am, ,


I've uploaded the photographs I took when I paid a visit to Oakham Treasures. It was a lovely place, I recommend anyone that lives close enough pays a visit. Click the link below the image above to view the images larger.

Labels: Oakham Treasures
posted by Lola-Mae Online @ 4:08 pm, ,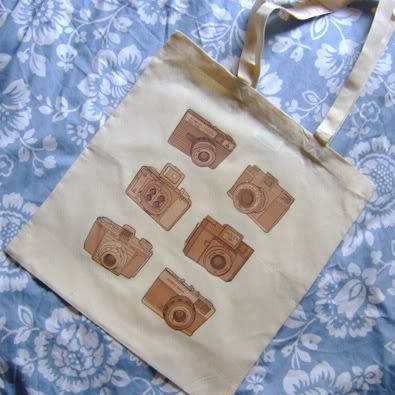 Cameras Print Tote Shopper Bag by What Katie Does - £12.00 from All Things Original


Hello boys and girls! I'm back!
I found these lovely bags at
All Things Original
, I've been looking for some nice totes to lug my uni stuff around in for ages...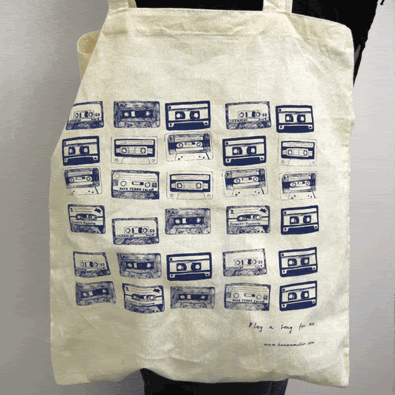 'Play A Song For Me' Bag by Hanna Melin - £10.00 from All Things Original



Labels: All Things Original, camera, tapes, totes
posted by Lola-Mae Online @ 12:02 am, ,


Hello!!!
Wednesday, 24 September 2008
Hi guys, I'm really sorry I haven't been updating. I've just started a new course at university and it's all been a bit hectic.
Anyway, I've noticed there has been a lot of hits everyday even though there hasn't been an update in a while. I'd like a bit of feedback, obviously I enjoy updating and putting ideas and designs up for people to see but not many people leave comments or feedback on the posts. Below is a little poll I'd like to know if you'd like Lola-Mae to stay active with frequent updates or if you aren't to bothered.
Please let me know, it's just a little click!
Labels: news
posted by Lola-Mae Online @ 4:13 pm, ,